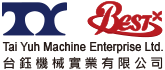 | Tai Yuh - Professional Food Processing Machine Manufacturer Since 1993.
Tai Yuh is a Taiwan manufacturer and supplier since 1993. We are a professional frozen and food making machinery manufactory, like bakery, roti, paratha, dumpling, curry puff, lacha pratha, spring roll, samosa pastry, pizza base, bread and rolls making machine.
Search | Food Machine Manufacturer - Tai Yuh
Tai Yuh was founded in 1993, is specialized in manufacture and design series of high quality and efficient food stuffing and forming machines, also the relative equipments.